If Starting A Business With No Money was something you had on your mind, you will be glad that on this blog, I speak at length about starting a wildly profitable business using three less known simple business models.
And in this post, am not only going to share with you Ideas on how to Start a business with no money, I will be breaking down these business models and point you in the right direction step by step.
This post was inspired by a question from a college student who asked me on Instagram, where she should start from to earn money online as she has no experience.
I recommended that she start as a Freelance writer, especially sign up for this websites which provides training and tools for better writing experience inside your dashboard when you sign up to write for their clients.
But that was not all… actually there is more to freelancing than many people care to know! And if you are using this less known business model am sharing in this post, you can actually turn freelancing into a passive income in less than 24 months from launching.
Make sure to read this entire post to learn more about this less known business model.
But I also know that you are probably wondering and asking…
Which Business Model Is Best For Me As I am Starting A Business With No Money?
Frankly speaking, all these three business models will be a perfect fit for the purpose. The only lynchpin will be what lifestyle, financial goals do you want to take precedence.
1: Affiliate To Product Launch Business Model
2: Freelancer To Product Launch Business Model
3: Audience And Advertising Business Model
Before we dive into deep and break down these business models, lets put out misconceptions round starting and growing a wildly profitable business working from home.
So, one of the biggest myths I hear in business is that you need to be an absolute expert before you can start a business.
Erm… really?
To be honest, this is probably one of the biggest load of garbage I've ever heard!
And am going to demonstrate to you a little bit more why that is…
If you are thinking about starting your business online, there are only a few things I would want you to get them right.
For a start, make sure you are picking a niche market you can solve their problems and get paid to do it.
Secondly, you should understand that there are only three smart ways to earn money using the three good business models listed above.
The one thing I love about the systems we share about making money online is that there is no barrier to entry.
Whether you want to start a business with no money or you have been looking for businesses to start with low investment, with these business models to hand, anyone can achieve their lifestyle or financial goals.
So, regardless of whether you have upfront capital outlay or you are flat out broke! There is always a way to earn money online as long as you know where you are starting from, and where you want to end up.
Obviously, as your entry point into your industry of choice, your first job will not necessarily be the dream job. However, it is going to be the building block to your dream lifestyle and possibly financial freedom.
This is why the Freelance to Product Launch business model is also preferred by many millennials who are looking for the best way to earn money online fast.
What Is Freelance To Product Launch Business Model?
This is when anyone starts with Freelancing as a business with the main goal of growing that business into a passive business through creation of productized service or product launch.
Freelancing is without a doubt an active type of income stream. While it pays well, (freelancers annual earnings of up to $60K) becoming a freelancer may not be your dream job if you have been looking for a passive income stream.

1 Earn Money Actively => Active Income
As mentioned above, making money online through freelancing, for example, is considered as an active form of income. And that is simply because, with freelancing jobs, you only get paid when you show up. The same can be said for anyone with a 9-5 corporate job where you clock in and out to earn a dime.
Don't get me wrong, having an active income is not all bad news, in fact, many online jobs for college students with no experience are in the active income category, and freelancing is one of the most popular.
While there are countless other freelancing platforms, only a few of them pay a decent hourly wage per assignment. Take this freelancing platform compared to Rev, they both are active income-generating jobs, yet one makes $30-$45 per hour.
How Does It Work To Earn Money Online As A College Student With No Experience?
With Writers Work, you subscribe to a platform that connects you as a freelancer with companies looking for writers of experience and skill sets.
Any college student looking to earn money online can jump in and apply for jobs that can pay up to $65 per hour, regardless of writing experience.
What I like the most about Writers Work is that they have a complete suite of writing tools inside the platform and these tools are also bundled with training for anyone to polish up their skills right inside the freelancing platform.
The freelancing training alone would cost anywhere between $197 to $127 bucks from most of the online training I have seen on the market.
If I was starting online today, I would have wanted to start a business with low investment yet more profitable enough to meet my financial goals.
Whether you are looking for jobs suited for college students with no experience or just seeking a career change, this Freelancing platform is what I would need on my corner.
Inside Writers work, you can create and share freelance portfolios of your writing, check and proofread your writing with just a click of a button.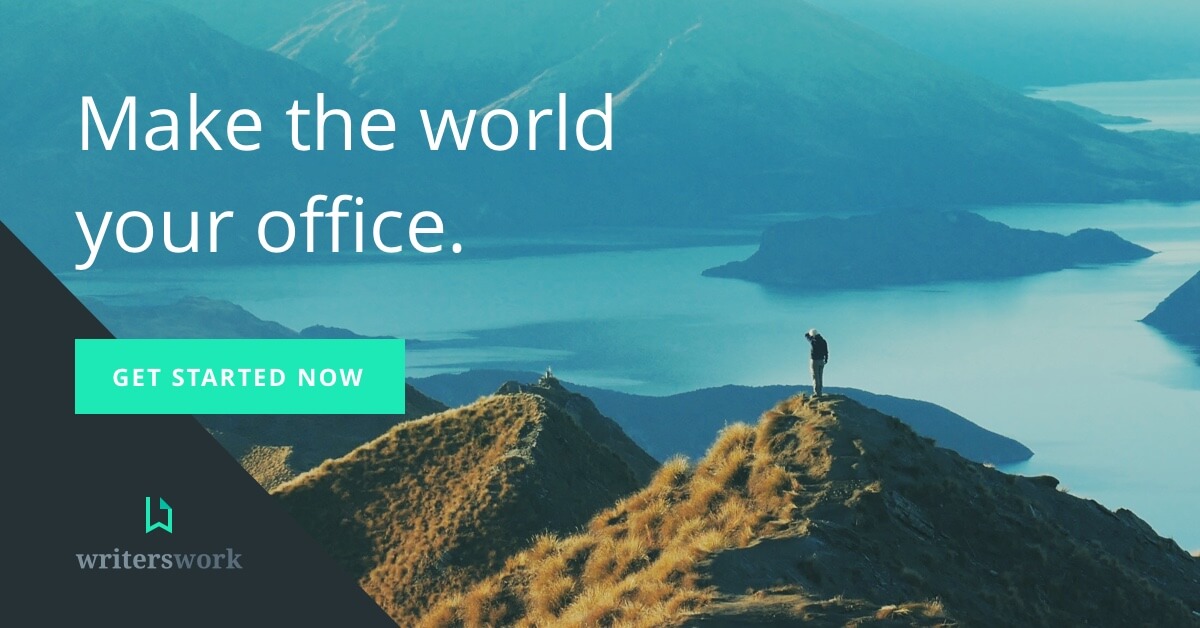 2: Earn Money Passively => Passive Income
Though most folks would think to earn money passively it's almost impossible, our Freelance to Product Launch actually clearly shows it is possible to start with an active income(in this case Freelancing) and graduate your income stream into a 100% passive income by launching a product or service on the back of freelancing.
How Does It Work?
Freelancing income earned from Writers Work can be re-invested into launching your very own productized service that can earn your business a passive income.
For example, sales copywriting is probably one of the most sought after skills for online businesses, yet these skills are not really taught in universities as a fully fledged graduate course.
And that opens up an opportunity for anyone with writing skills to create an online training resource that can be distributed through a membership program.
Membership programs are one of the best ways to earn a recurring income as long as you are providing value to your members. The beauty of memberships is the fact that you get to create content once, and you continue to earn money over and over with little to no maintenance.
I would have loved to break down more into how Earning Money With Portfolio or what is commonly known as Portfolio Income, however, the mention of starting as a freelancer( active income) then graduating into passive income has many of you thinking creating a membership site is not for amateurs…
Frankly speaking, to help someone with a need or problem, you do not need to be an accomplished guru in your industry. All you will ever need to help others is to know just enough to solve a problem at hand.
Take football or tennis coaching for juniors as an example, do you really have to be an elite premier league football player to coach a kid's football team or run a junior golfing event business at your local golf club?
Of course not!
You just need to know more than the people you're teaching so that you can help them.
It's exactly the same with starting and growing a business. In fact, there are so many verticals in the startup category. From creating a business website (DIY), Traffic generation, Social media marketing for small businesses to running paid ads campaign.
If you can learn even one skill which your target audience doesn't have, you can help them and get paid doing it!
In our case, we started Data Race Hero where our target audience just happens to be local business owners.
And it's really simple, we know how to advertise – they don't.
Do you think they'd be willing to pay us to do it properly for them?
You bet they do! And with gratitude too!
So if something has been holding you back about starting and growing your wildly profitable business, consider starting small.
Think of it as starting from not so glamorous job(active income) to bagging yourself a dream job! ( Passive Income or Portfolio Income)
I talk about this a little bit more in the Youtube video guides that I share over at Youtube.
If what I shared here struck a nerve with you, you will love watching the step by step guides shared on my channel, and it'll open your eyes to the fact that YOU can actually start a business straight away!
Click here to watch the Start and Grow video series!
To your success,
P.S. If you're not subscribed to my YouTube channel yet, you're DEFINITELY missing out!